A large number of municipal solid waste is also a big threat to our living environment. How to find the effective ways to dispoal municipal solid waste? The answer is Beston municipal solid waste treatment plant. This plant can be used to classify all kinds of rubbish. And the final products mainly include inorganic, organic, irrecoverable fuel, metal, glass, paper, plastic film, sands, earth and stone etc. And the separation rate of msw sorting treatment plant can reach more than 85%.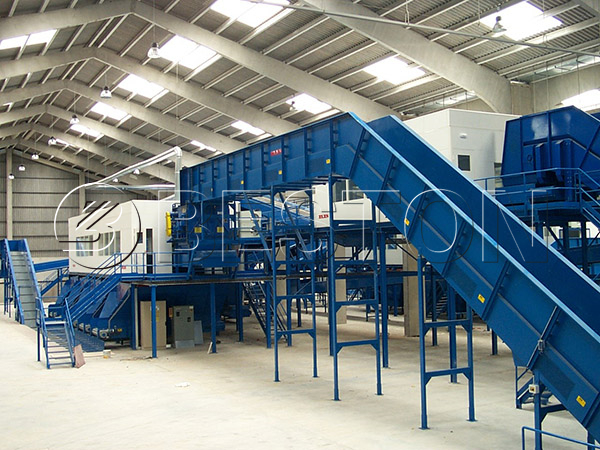 Description of municipal solid waste treatment process:
This process system feeding way is by forklift will rubbish into the rubbish bin, by receiving hopper bottom plate conveyor jiang is expected to take away, balanced by ejecting device sending material layer dial evenly after the first belt conveyor, through the manual sorting platform, picked out by artificial to big ones, at the same time through strong magnetic magnetic separation, black metal picked out, again by broken drum screen, classification of garbage into the garbage and < 90 mm and 90 mm or more (plug hole size according to the reality of garbage) on the screen, undersize material as raw materials for the system of fat (or landfill) output. ≥ 90mm sieve material through the sieve material transport conveyor into other devices (or packed storage).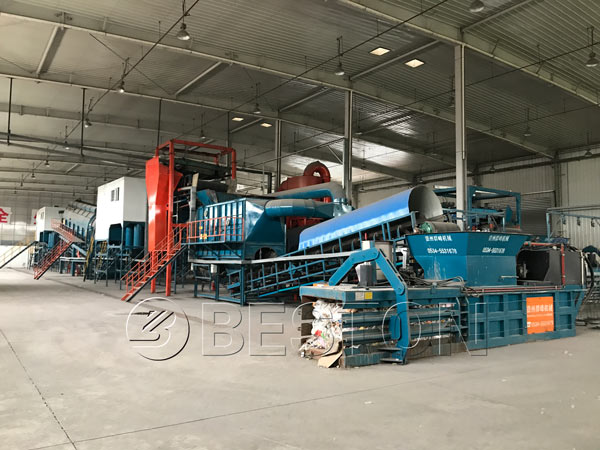 Advantages of msw treatment plant:
1. Reasonable structure and configuration, with high level automatic operation, to reduce labor intensity.
2. Smoothly conveying system, feeding evenly without jam; Reasonable connecting style for every transition point, without material release or accumulation.
3. Nonloaded part cleaner, beginning part cleaner, rotary screener cleaner and ending part tensioning device are equipped for all belt conveyers.
4. High level wearability, anticorrosive are request on every belt conveyer. To ensure safety operation, manual cord switch and crash-stop devises are equipped on every conveyer; Auto deviation rectifying and tensioning, conveyers owning more than 2 years serving life.
5. Every parts of the system is equipped with manual auto switcher and crash-stop device, locates in easy operation position, to avoid error starting or electrocution.
6. The LPC control system could monitor the whole working process of the line.
7. The sealed deodorizing system as we as the unique aromatic ester spraying deodorant system, could keep the bad smell in the workshop away.
Applications of Final Products:
(1)Plastic film can be made into plastic particles or converted into pyrolysis oil;
(2)Waste paper can be made into pulp to produce new paper;
(3)Metal can smelt new metal again;
(4)Glass can be reused;
(5)Making brick with the earth, stone and sand;
(6)Organic matter can be made into biogas by using fermentation system.
Beston (Henan) has always been adhered to the "pursuit of excellence, excellence" business philosophy, and we'd like to make some change with the configuration according the garbage component of different locations and countries, to make a safe environment friendly and economic solid waste sorting project. We determine to deal with all the solid waste at every corner in the world in the near future, creating a clearer, brighter, and more beautiful future.
Main parts of solid waste treatment plant design: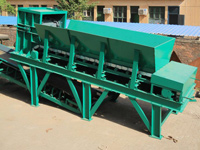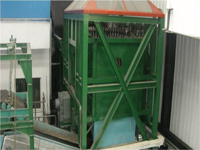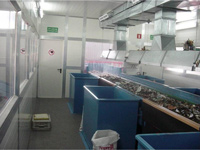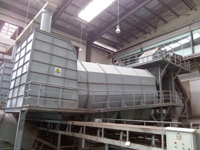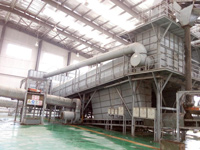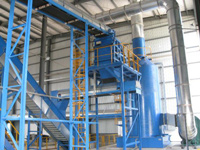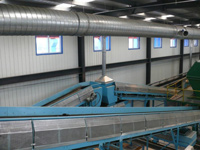 Model
BFX-100
BFX-200
BFX-300
BFX-400
Raw material
Urban garbage
Capacity
100T/D
200T/D
300T/D
400T/D
Power(KW)
224.7
263
279
294
Area(㎡)
5366
6112
6200
6800